The NYSC Batch B 2019 Mobilization Timetable is a piece of news that every prospective Corps members have been expecting for months and now it has been officially announced. See also: Top 10 Things All Prospective Corps Members Should Do Now
The NYSC Batch B mobilization timetable is the first step and also a confirmation that the official National Youth Service Corps Mobilization for this batch is in motion. See also: NYSC 2019 Batch Questions – Get Answers In 2 Minutes Or Less
Before I give an explanation and give you full details of the Official NYSC timetable, let me show you a picture of the timetable because of people who are yet to see it. See also: NYSC 2019 Batch B Whatsapp Group – Join Now
The NYSC Timetable was officially updated and they made a change on the registration date. Below is the new Updated NYSC official timetable.
Official NYSC Batch B Mobilization Timetable
Please pay attention to the dates and the schedule of all the programme.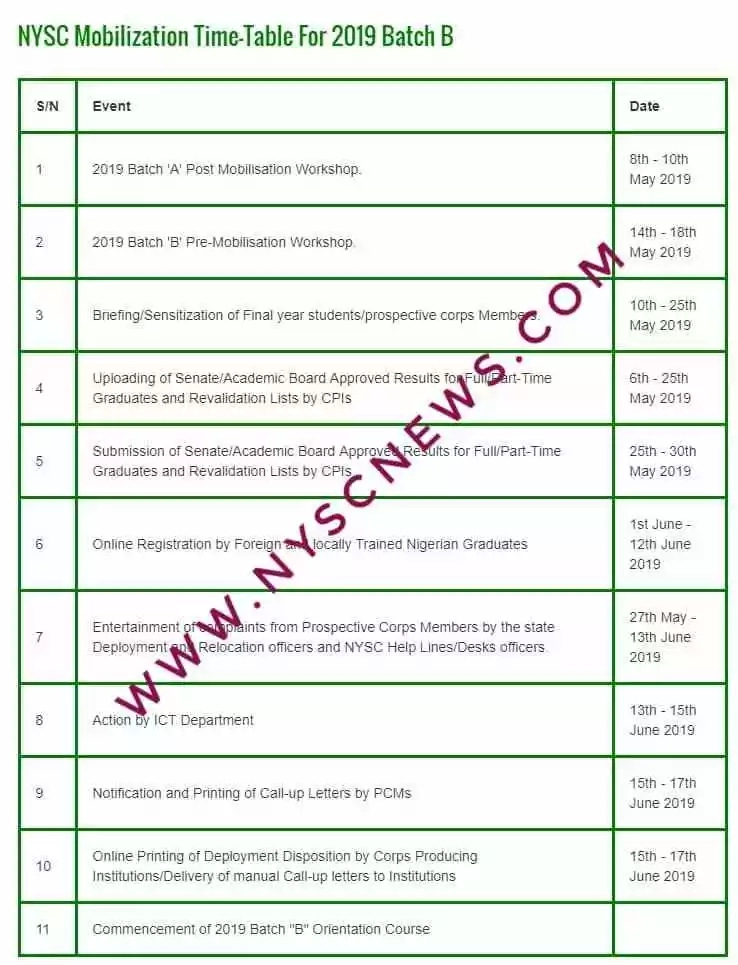 Explanation Of The Timetable
1. 2019 Batch 'A' Post Mobilization Workshop. 8th – 10th May 2019
This is a post Mobilization bla bla bla for our younger Batch. You don't really have to worry about this because it's not our thing.
2. 2019 Batch 'B' Pre-Mobilization Workshop. 14th – 18th May 2019
This one is also not of our business. Let's just bounce.
3. Briefing/Sensitization of Final year students/prospective corps Members. 10th – 25th May 2019
The NYSC management always organize some lectures to educate graduates about NYSC and give them more details about how the NYSC thing works. This pre-mobilization forgraduates has been inactive for long. Let's just ignore this one too. We bloggers are handling sensitization for NYSC now.
4. Uploading of Senate/Academic Board Approved Results for Full/Part-Time Graduates and Revalidation Lists by CPIs 6th – 25th May 2019
The Corps Producing Institutions (CPI) will begin uploading of Senate list. This is when your name will be uploaded to the NYSC Portal to enable you for registration. If your name is not on this list, you will not be able to do NYSC registration. This is already in progress.
5. Submission of Senate/Academic Board Approved Results for Full/Part-Time Graduates and Revalidation Lists by CPIs 25th – 30th May 2019
After uploading the approved Senate list for prospective Corps members by CPI, they will have to take a hard copy to NYSC office in Abuja for submission. It is after the hard copy submission that you will be able to verify your name on the NYSC portal.
If you go to NYSC portal now to verify your name, what you will see is NO Record Found. This is because the CPI have to upload and submit the list.
6. Online Registration by Foreign and locally Trained Nigerian Graduates 1st June – 12th June 2019

This is when the NYSC 2019 Batch B online registration will begin for us and our brothers and sisters who finished abroad.
7. Entertainment of complaints from Prospective Corps Members by the state Deployment and Relocation officers and NYSC Help Lines/Desks officers. 27th May – 13th June 2019
The state deployment and relocation officers will be available for complaint from prospective Corps members. But wait! What do PCM want to complain about at this point? I don't know. But if you have any issue during or after registration, you can visit these officers.
8. Action by ICT Department 13th – 15th June 2019
ICT department will start action by arranging, deploying and posting Corps members based on the directory from above. This is when ICT will give some people Lagos and some Jigawa.
9. Notification and Printing of Call-up Letters by PCMs 15th – 17th June 2019
The Call-up letter will be out and that is the moment every prospective Corps members will discover where they have been deployed to serve their father land. Some will be happy, some will be strong, some will redeploy and some will ermmm hmmm cry. Seriously, there is no need to cry.
10. Online Printing of Deployment Disposition by Corps Producing Institutions/Delivery of manual Call-up letters to Institutions 15th – 17th June 2019
The NYSC management will deliver the call-up letter to all Corps producing institution. Incase you did not pay N3,000 for the printing of Call-up letter online, you can go to your school to collect it.
11. Commencement of 2019 Batch "B" Orientation Course
The orientation camp is that final moment when you get to go and experience the awesome and captivating once in a life timeNYSC camp experience. The date is not always in the timetable due to the probability of unforeseen circumstances. See also: NYSC 2019 Batch B Corps Members House – Lets Connect
Now you have full details of the NYSC Batch B Mobilization timetable. If you have nay question oryou need more explanation, just use the comment box below.
Thank you so much for reading, please SHARE