This is a strong warning to all NYSC 2019 Batch A prospective Corps members directly from the NYSC Management and I will advice you all to pay attention and not miss this. See also: NYSC 2019 Batch A News UPDATES – 2019 Registration Costly Mistakes To Avoid
PUBLIC NOTICE
2019 Batch "A" Prospective Corps Members are to make use of the links provided for them on their dashboard appropriately during Online Registration. See also: NYSC 2019 Batch A Questions – Get Answers In 2 Minutes Or Less
Name Correction
a. Spelling Error
b. Name Re-arrangement
c. Name Replacement
d. Name Addition
e. Name Removal
Correction of Date of Birth.
Correction of Qualification.
Correction of Class of Degree.
Correction of Course of Study.
Prospective Corps Members with disparity on the Course of Study uploaded online by their Institutions, that appears on the dashboard and that of the Statement of Result, should apply for Correction of Course of Study on their dashboard. Note that your Institution are to effect the Correction of Course of Study. See also: Top 10 Things You Must Know Before NYSC Registration
You will NOT be allowed to register in the Orientation Camp, if the Course of Study on your dashboard is not the same as that of your Statement of Result.
Signed:
Management.
See the screenshot below;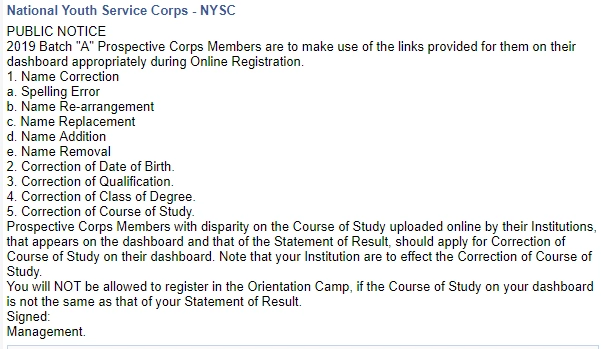 Please hit the share button to save someone some stress.