Checking Jamb matriculation list is a surprise to me just as this is a surprise to you. New policies that will be stressing new corps members everyday. During my own time, when i served, they did not even stress me at all. They wanted to stress me, but i told them am NYSC amebo and my hubby is putting my mouth where am not invited. So they calm down and i enjoyed my service year without no medical certificate or fitness whatever or anything. Although medical certificate is important but was not required when i served. But this time around, a lot of things have to be put into place for you to be mobilized even after you are a graduate o. Serving our father land on a strange land with a chicken change shouldn't be stressing us out again.
I am not here to give you a bad news, am just here to show you what i saw online and am asking myself what is this and what is the meaning of this. is this really necessary? have been asking myself several questions since i saw it. And i want you to see it too.
It is an information on the JAMB official site that i have to show you. After have shown you, you will then do just 3 things after. I will give the link to check below.
The information says that:
Jamb Matriculation List
It is important that you confirm your name from the matriculation list. Only candidates whose names are on this list are recognised as bonafide students from the various accredited institutions.
By implication, if your name is not on this list, your application to NYSC scheme for the one year National service shall be declined.
To qualify to be on the Matriculation List:
Print your Admission Letter Online from the e-Facility Platform
Print your Result Slip Online from the e-Facility Platform
Verify the two documents with the admission officer in your Institution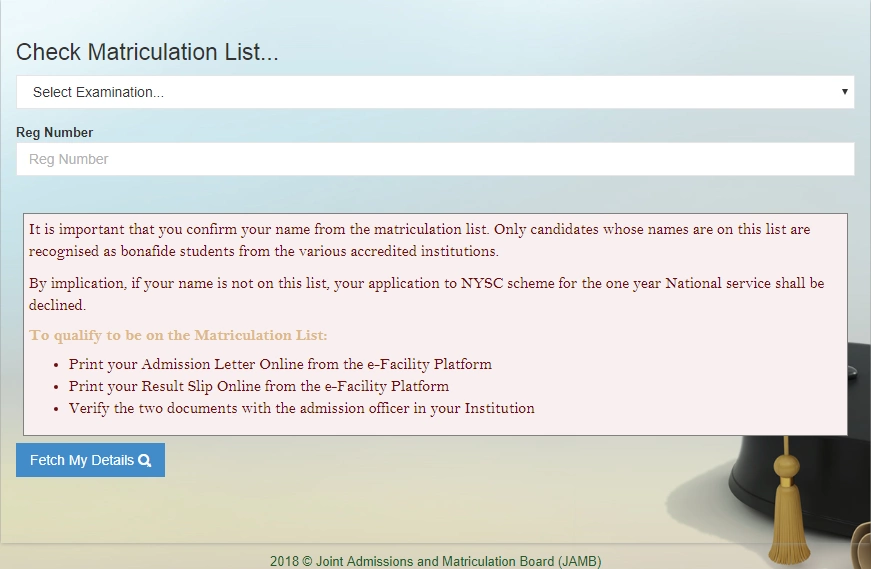 3 Things You Should Do Now About Jamb Matriculation List
Check your name by clicking HERE and then comment what you see below.
Relax! We are still verifying maybe this will truly affect your mobilization.
Please SHARE! If you all share this post, it will get to the authority and they will release an official responds so as to know what is going on.
After checking your name on the jamb official site, please comment below and let us know what you see. If you have any questions, just ask below.
Get connected with us and never miss important information.