I am sorry I am giving you this update very late. I have not been feeling fine, my eyes are white and I have been vomiting all day. Although I missed my period last month but am sure it's just a headache that is making me feel like this. I just finished using paracetamol and am fully fine now. Abeg I was just joking o. Before my potential husband will say yes, Lola is pregnant and leave me here. So let's go to the reason for this post.
Due to some factors and some regrettable issues, the NYSC 2018 Batch C Orientation camp will not be able to hold in all the 36 states in Nigeria. these states below are the states that are safe and will be used for the NYSC 2018 batch C stream II orientation camp.
Read Also: FG Reportedly Agrees To 30,000 Minimum Wage – NYSC Allowance Will Increase
The states are:
Abia, Adamawa, Akwa-Ibom, Bayelsa, Cross River, Ebonyi, Edo, Ekiti, Enugu, Gombe, Imo, Jigawa, Kebbi, Kano, Katsina, Kwara, Lagos, Nasarawa, Niger, Ondo, Osun, Oyo, Taraba, Zamfara States and the FCT.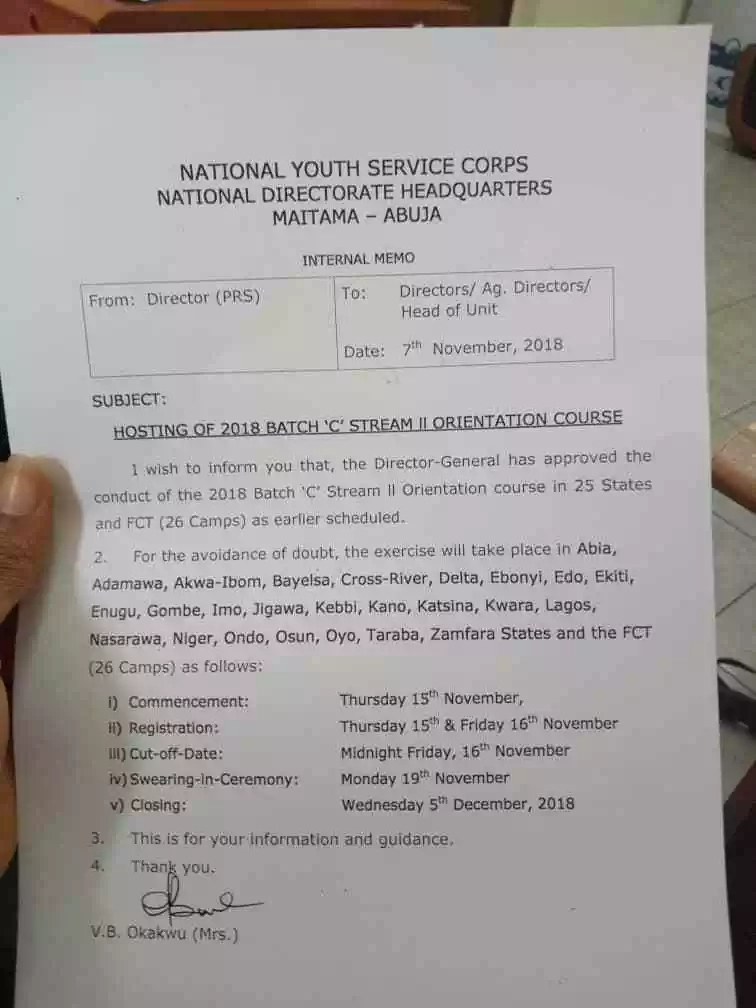 You don't have to panic if your state is not on the list, the address of the orientation camp you will attend will surely be one of these states.
If you have any questions, just ask me below: