It appears that the National Youth Service Corp (NYSC) has canceled the compulsory one-year orientation exercise embarked on by David 'Davido' Adeleke.
The 'Fall' singer said the scheme canceled his service in a comment on Instagram.
Reacting to a post made by Adesegun Adeosun, Nigerian music promoter better known as Smade who just finished his three-week NYSC orientation program, and got a letter of recommendation Davido wrote: "Naso dem cancel my own". See also: How Davido Travelled To Seven Countries, Violated Other NYSC Bye-laws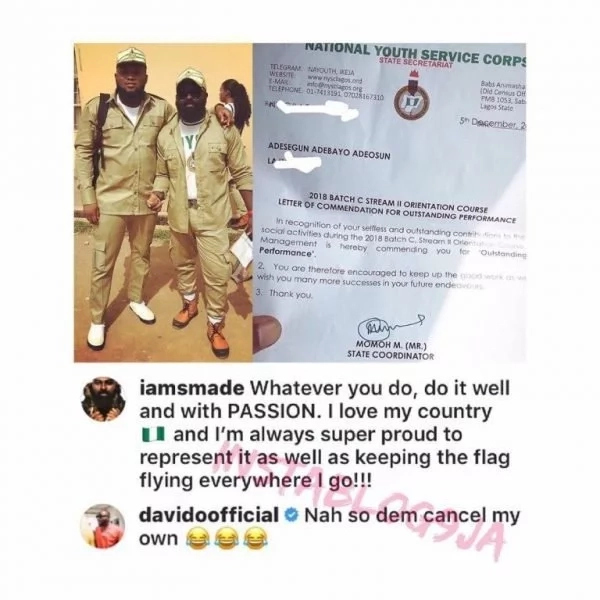 The 26-year-old singer, who graduated from Babcock University in 2015 after studying music, had registered for NYSC in 2018 Batch 'B' stream II corp members who were sworn in on August 30.
The NYSC programme is mandatory for all graduates to qualify for gainful employment in Nigeria.
Speaking on why he registered for the scheme, Davido said he was tying all loose ends.
"I am a youth and I am delighted to serve my fatherland," he said at his swearing-in ceremony.
"NYSC is also a leadership development programme and since I will not remain a youth forever, I have to start preparing myself for the future."
Read also: Heart Breaking Photos Of Corps Members Involved In An Accident After Camp
After promising to take part in all camp activities, the 'FIA' singer canceled his US tour that was scheduled to hold in September for NYSC commitments.
"Due to scheduling conflicts and NYSC commitments in Nigeria, the remaining dates for the Davido Locked Up Tour has been canceled. Refunds will be made available at point of purchase."
There had been questions if the singer broke NYSC bye-laws by campaigning for his uncle, Ademola Adeleke, during the Osun governorship elections.
There has been no official statement from the scheme disputing or confirming the action.