The NYSC 2019 Batch C senate list is starting to come out on the NYSC Portal and this post is just to provide updates on the list of Institutions whose Senate list is already on the NYSC portal. If you have been checking and you are getting no record found, you should relax and keep checking.
Before I show you the lists of schools whose Senate list is out on the NYSC portal, let me show you how to correctly verify your name on the NYSC Portal.
Correct Way To verify Your Name On Senate List
Verifying your name on the NYSC portal for the senate list is simple and easy. You will need:
Name of your Institution
Your Matric Number
Your Surname
Your date of Birth (Submit like that if you can't select the year)
Once you have the above information, click the link below or scroll down to see the list of schools whose senate list is already on the portal.
If you can't see your name yet, just relax and keep checking. As soon as we are getting info, we will be updating this list.
After filling the above form correctly, hit the search button. If you are unable to select the year from the date of birth, hit search like that. It will bring your details if your list has been uploaded. If you are seeing "No Record Found" please relax, no Batch C list is yet on the NYSC portal.
List Of Institutions Whose Senate List Is OUT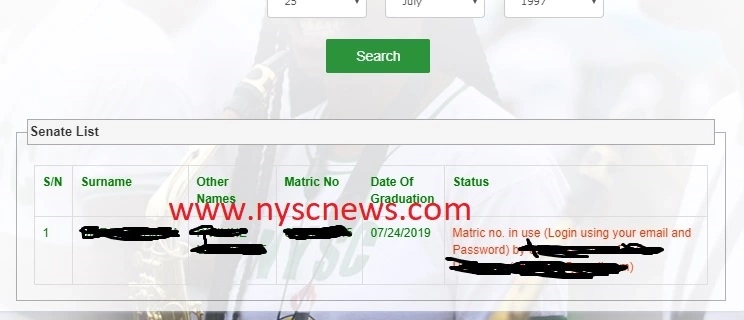 Below is the list of all the institutions whose senate list has been uploaded on the NYSC portal.
If you can't see your name yet, just relax and keep checking. As soon as we are getting info, we will be updating this list.
Salem University Lokoja
University of Uyo
Kwara State Polytechnic
Federal Polytechnic Idah
Federal Polytechnic Nekede
Ebonyi State University
Our Saviour Polytechnic Enugu, OSISATECH
Adamawa State University, MUBI
Igbinedion university
Benue State Unuversity
University Of Jos
Osun state college of education (affiliated to University of Ibadan)
Lagos State Polytechnic
Institute of Management & Technology Enugu
Rufus Giwa Polytechnic
Obafemi Awolowo University
Nasarawa State University keffi
University of Port Harcourt
Varitas University Abuja
Kwara State University senate 
Igbajo Polytechnic
Umaru Musa Yaradua Uni katsina
Abia state polytechnic
Modibbo Adama University of Technology
Adeyemi College of Education (affilliated to Obafemi Awolowo University)
AMBROSE ALLI UNIVERSITY,EKPOMA
Usmanu Danfodiyo University, Sokoto
Yabatech
DELTA STATE UNIVERSITY
Nnamdi Azikiwe University
Kogi State Polytechnic Lokoja
University of Mkar
D.S Adegbenro ICT Polytechnic
Kwara State College Of Health Technology
Babcock University
Temple Gate Polytechnic Aba Abia state
Federal University Dutse
Delta State University
TANSIAN UNIVERSITY UMUAYA ANAMBRA STATE
Michael Okpara University of Agriculture Umudike Umuahia Abia State
Federal Polytechnic Bida
Madonna University Okija Anambra State
plateau state university
Ekiti State University
Kano University of science and technology wudil.
Kaduna state university
Benue polytechnic
Renaissance university Enugu state
School Of Health information magement, UBTH
Federal University Of Technology Owerri
Federal University Lafia, Nasarawa state
Federal polytechnic OKO anambra state
Kenule Beeson Saro-Wiwa polytechnic Bori,Rivers state
Federal university Birnin kebbi
fed poly Mubi
The Polytechnic Ibadan
NIGERIA DELTA UNIVERSITY
University of Benin
university of Nigeria
AAUA
heritage polytechnic
University of Agriculture, Makurdi
Please if your senate list is out on NYSC portal and your school name is not above, please comment "OUT:" and write the name of your school in front. Example!
OUT: Salem University Lokoja
Stay Connected!