The official date for the NYSC 2019 Batch A orientation camp has been announced. The official NYSC 2019 Batch A Orientation Camp Date commence
Wednesday 27th March – Tuesday 16th April, 2019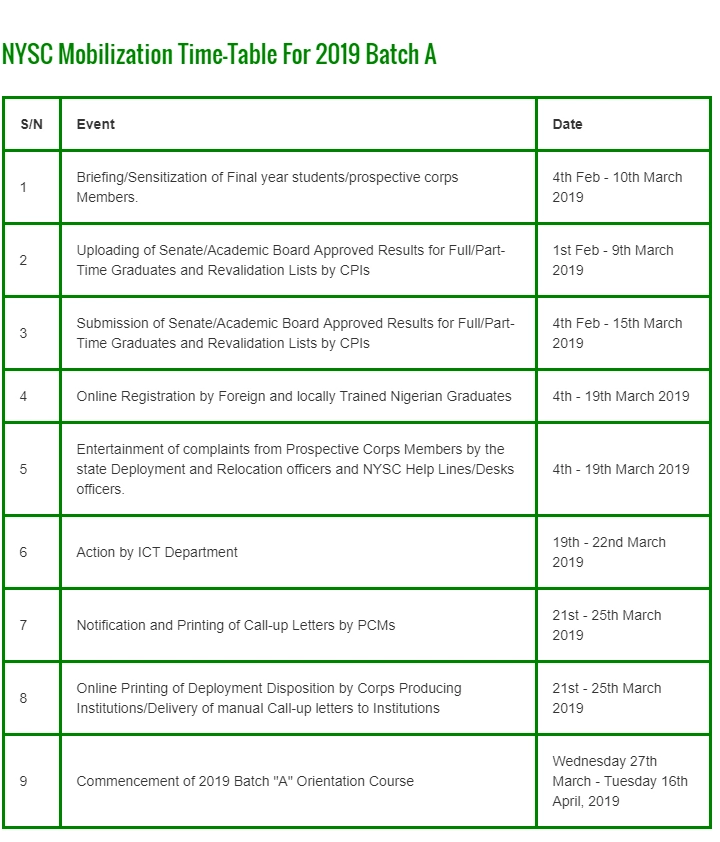 Congratulations to you all and we are so happy for you all. The date is official.
Latest Updates On Rumored Date
This is an update to tell you all to ignore the fake NYSC 2019 Batch A Orientation Camp date going viral already. Some people have been asking and sending messages to ask if the Orientation for this batch is March 26th.
I was surprised because I don't know where that date came from. Over a hundred messages asking to verify if 26th is the actual date for the NYSC 2019 Batch A Orientation Camp.
You should all know that the NYSC 2019 Batch A date is yet to be announced officially. Kindly ignore that date and wait till the management release a date for your camp.
Join our whatsapp group above and stay connected.
Updates!
Hello everyone, this is just an update about the NYSC 2019 Batch A Orientation camp date. Some people have started carrying rumors that the Orientation camp will begin by 26th of March 2019. I am here to tell you that it is a lie and just another wrong information out there.
For now, there is no official date for the 2019 Orientation camp yet. There has not been any official announcement about camp. Once the NYSC registration ends and the printing of Call-up letter commences, we will know the date. For now, there is no official announcement. Please ignore any rumor about 2019 batch A camp date.
Stay Connected and you will not miss out of information.
See also: NYSC 2019 Batch A Registration Without Name On Portal Senate List – Tricks
The NYSC Orientation camp is always the best part of the NYSC scheme because the 3 weeks is always filled with everything to empower and strengthens every prospective Corps members.
NYSC 2019 Batch A Orientation Camp Date
A lot of NYSC 2019 Batch A Prospective Corps Members have been asking for the date for the orientation camp. I just want to tell you all to relax and be expectant. See also: Top 10 Things You Must Know Before NYSC Registration