For a few days now, there has been a lot of speculations about the postponement of the NYSC 2019 Batch A registration date. According to the initial date, the NYSC registration for 2019 batch A will commence by 18th of February 2019. See also: JAMB Matriculation List For NYSC Mobilization
| | |
| --- | --- |
| On-line Registration by Foreign and locally Trained Nigerian Graduates | Commences 18th February, 2019 |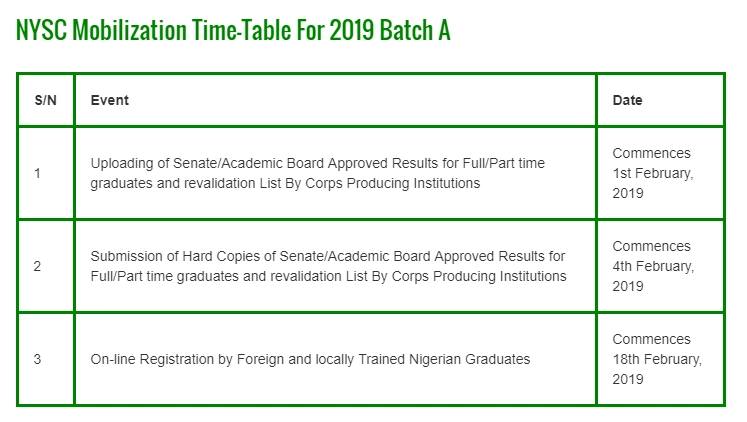 A lot of prospective corps members are worried and some confused because if the NYSC registration for this batch will start by 18th of this month, why are so many Institutions yet to upload their official Senate list. See also: NYSC Registration For 2019 Batch A – Everything You Need To Know
This hot post has been keeping tracks and updating the list of institutions as they have been releasing their senate list and I can tell you that many schools are yet to upload their approved senate list. Even the ones that have managed to release the list are yet to upload it on the NYSC portal.
So the question remains "Will NYSC management postpone NYSC registration date or not?" The answer to this important question is that for now, there is no official answer and if definitely, I should have an answer, I am going to give you. The answer can only come from the management and for now, there is nothing yet. See also: NYSC State Allowee Amount In All States In Nigeria
From my own perspective, i will say that it is likely the management postpone the NYSC 2019 registration date because of the election and ASUU strike that was just suspended of recent which has slowed down the upload of senate list from some affected schools. And also the institutions need more time to compile, correct and send their respective lists. This is just my own perspective and I am not asserting that it will be postponed.
Either the date will be postponed or not, we have to wait for an official announcement. But for now, the date still remains thesame and if anything changes, just stay connected via our WhatsApp group and you will be the first to hear about it. See also: Sample Of NYSC Mandated Medical Certificate – See Pictures
Please calm down and relax because everything will be fine. NYSC registration can not commence if every accredited schools are yet to send the senate list.
If you have anything to say, use the comment box below.