JAMB Matriculation List For NYSC Mobilization is a policy that has been on the ground not for long. The idea is for prospective Corps members to check for their names on the JAMB Matriculation List to be qualified for NYSC Mobilization.
The Joint Admission Matriculation Board launched the Portal so that every prospective Corps members from various higher institutions can check their names to confirmed if JAMB recognizes their admission or not.
JAMB Matriculation List Is Important
The list becomes very important because only the candidates that have their names on the list are considered to be bonafide students from accredited institutions.
If your name is on the list, you will have the ability to proceed with NYSC registration once your school releases your name on the Senate list. However, if your name is not on the list, JAMB will decline your NYSC application. This means that even after the Senate list contains your name you won't be able to register all because your name is not on the JAMB Matriculation List.
So in summary, your name must be on the Matriculation list if you want your NYSC registration to be smooth and stressless.
How To Qualify For JAMB Matriculation List
Before I go ahead to show you how to check your name on the JAMB Matriculation List, I will like to show you how you can be qualified for the list.
Print your Admission Letter Online from the e-Facility Platform
Print your Result Slip Online from the e-Facility Platform
Verify the two documents with the admission officer in your Institution
How To Check Your Name On JAMB Matriculation List
Checking for your name on the list is as easy as a few clicks. Here are the steps below.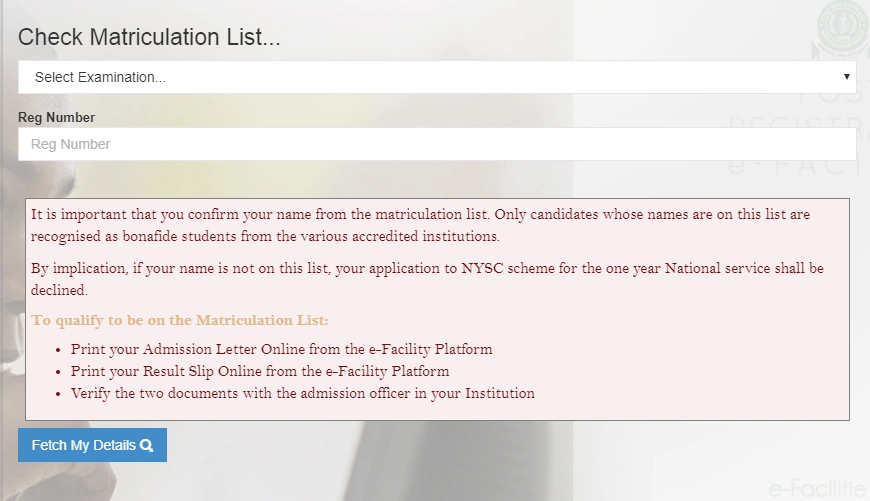 Go to the matriculation list portal by Clicking HERE .
Select your

examination year

.
Enter your JAMB Registration number where required.
Finally, click on '

Fetch My Details

'.
Am sure you now have every details and information you need to know about JAMB Matriculation List. If you have any questions, just ask me below and if you have checked and found your name on the list, also let me know below.