Corpreneur is a platform that cares about your financial life and off course the only place where you can make money by saving money. While banks deduct from your NYSC allowance, Corpreneur will not only save your money for you, they will pay you interest for saving your money with them without extra charges or hidden payments.
Either as a serving Corp member or a prospective corp member, saving is very important and extra cash at the end of the service year can really be a lifesaver. For example, if you are saving 10k every month from your NYSC allowance, in 10 Months, you will have 100K. Imagine how that can help you after NYSC.
CLICK HERE TO SIGN UP On CORPRENEUR
The Problem
Now the major problem most serving corps members are facing is how to save this money. There are lots of things to do, lot of bills to pay and several things will happen that will make you go to the bank to withdraw the money you intend to save. Some banks are not also helping because of the monthly charges that is reducing the money every month.
The Good news is you don't have to worry about all these challenges of saving because Corpreneur is here to help you save your money and also pay you interest at the end of your saving plan.
Either you are searching for how to save money during NYSC, or how to make extra money during service year, what to do during nysc, how to earn money during service year and every other question relating to saving in NYSC, Corpreneur is the answer and by the time you read this post to the end, you will discover a smart way never to be broke again.
CLICK HERE TO SIGN UP On CORPRENEUR
All You Need To Know About Corpreneur
CORPRENEUR is a savings, investments and entrepreneurship platform that helps you discipline your savings, invest with a small amount and empowers entrepreneur. Simply register a free account to start saving as low as N100 or up to N10,000,000 daily, weekly or monthly while choosing to save automatically or manually.
Our platform also allows entrepreneurs to improve their business visibility by promoting their brand with a dedicated customizable business page where potential customers across the nation can find their businesses. These business pages will get good search engine optimization (SEO) to rank high on Google searches.
Corpreneur Mission And Saving Plans
Our mission is to establish self-sufficient entrepreneurs across the nation, by creating a platform that facilitates their growth and provides them with opportunities.
Below are the saving plans you can choose from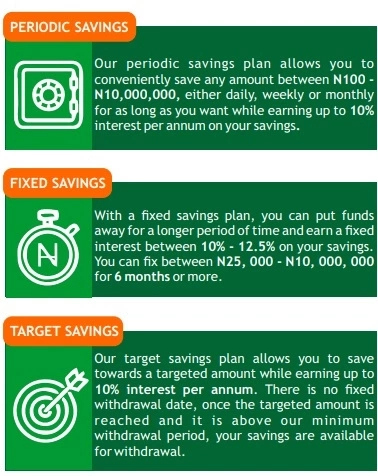 PERIODIC SAVINGS
The periodic savings plan allows you to conveniently save any amount between N100 – N10,000,000, either daily, weekly or monthly for as long as you want while earning up to 10% interest per annum on your savings.
FIXED SAVINGS
With a fixed savings plan, you can put funds away for a longer period of time and earn a fixed interest between 10% – 12.5% on your savings. You can fix between N25, 000 – N10, 000, 000 for 6 months or more.
TARGET SAVINGS

The target savings plan allows you to save towards a targeted amount while earning up to 10% interest per annum. There is no fixed withdrawal date, once the targeted amount is reached and it is above our minimum withdrawal period, your savings are available for withdrawal.
Safety & Security
Am sure the first question on your mind is how safe and guaranteed is Corpreneur because this is a money matter. I can assure you 100% that your money is safe and secure.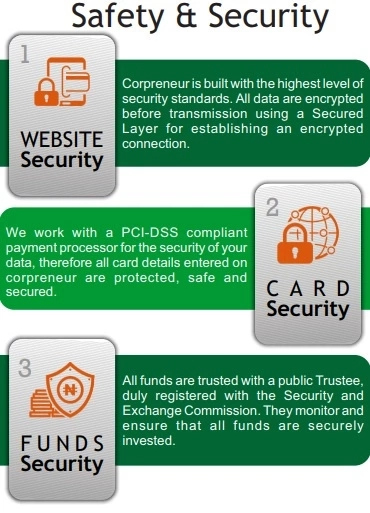 Website Security
Corpreneur is built with the highest level of security standards. All data are encrypted before transmission using a Secured Layer for establishing an encrypted connection.
CARD Security
We work with a PCI-DSS compliant payment processor for the security of your data, therefore is protections for all card details entered on corpreneur and they are all 100% safe and secure.
Funds Security
All funds are trusted with a public Trustee, duly registered with the Security and Exchange Commission. They monitor and ensure that all funds are securely invested.
How It Works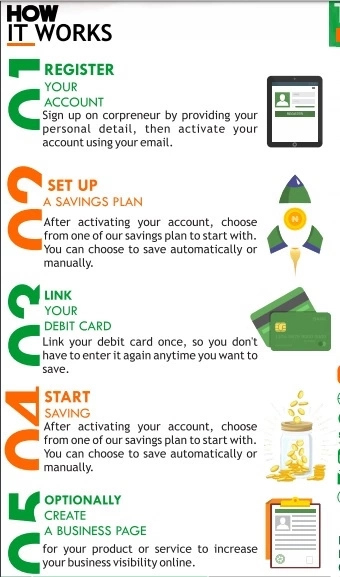 CLICK HERE TO SIGN UP On CORPRENEUR
Corpreneur Frequently Asked Questions
Below are questions you might want to ask about this platform.
WHO SHOULD USE CORPRENEUR?
Corpreneur is available to anyone to wants to cut down on their expenses and start saving but he/she doesn't have the discipline to do so and also to people who would like to save towards a goal. No sign-up fee and earn up to 10% interest per annum.
IS MY FUNDS SAFE?
All funds are trusted with a public Trustee, duly registered with the Security and Exchange Commission. They monitor and ensure that all funds are securely invested.
HOW MUCH CAN I SAVE?
You can start saving as low as N100 up to N10,000, 000 either daily, weekly or monthly.
CAN I CHANGE MY SAVINGS SETTINGS?
Yes sure, you can change your savings settings anytime at no extra cost. You can reduce, increase and pause your savings as you wish and also you can change your savings plan.
HOW MANY SAVINGS PLAN CAN I HAVE?
You can only subscribe for one periodic savings plan, one or more target savings and fixed savings plan.
ARE THERE BANK CHARGES DEDUCTIONS WHEN I SAVE FROM MY BANK?
All Card transactions involving Corpreneur is absolutely free.
IS MY BANK DEBIT CARD ACCEPTABLE?
All cards issued by all Nigerian Banks are acceptable.
CAN I PUT MY AUTOMATED SAVINGS ON HOLD?
Pausing your automated savings option is as simple and straightforward, simply login to your dashboard and click on the pause button. But that doesn't stop you from toping up your savings anytime until you unpause the automatic saving.
WHAT HAPPENS AFTER MY SAVINGS END DATE?
At the end of your savings date, withdrawal of your savings will be opened for seven days. After which you will be notified to create a new plan with your funds.
HOW IS MY INTEREST BEEN PAID?
Interest is paid daily on your savings and can be withdrawn together with your savings at your withdrawal date, which is the end date you set for your savings.
WHEN CAN I MAKE WITHDRAWAL?
Withdrawals are free only on your set savings end date.
WHAT IS THE MINIMUM OR MAXIMUM AMOUNT I CAN WITHDRAW?
The minimum amount you can withdrawal from your savings is ₦3, 000 and there is no maximum. You can withdraw all your funds for free at the end of your set withdrawal date.
CAN I MAKE EARLY WITHDRAWAL?
There is no option for early withdrawal, your funds will be made available on the withdrawal date you set for yourself.
HOW DO I REGISTER MY CARD FOR OTP(One Time Password)?
Please follow these steps to register your bank for OTP:
Go to any Bank ATM around you, and insert your ATM card.
Select the "Quickteller" option from the ATM menu screen.
Choose "Pay Bills"
Select "others"
Enter "322222" as the "Payment Code"
Enter the registered phone number on your bank account as the Customer Reference Number.
Follow the prompts to complete the transaction.
Service cost ₦1.
Once a transaction is initiated, the One Time Password(OTP) required for the transaction would be received on their registered phone as an SMS.
If you have other questions, use the comment box below.